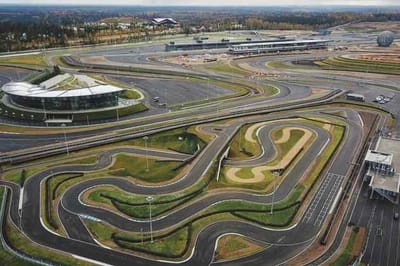 The Igora Drive circuit
can host all international racing series, including Formula 1! And we are able to provide comfortable transfers with English-speaking drivers to Igora from St. Petersburg city center or Saint Petersburg Pulkovo International Airport.
COMFORT

SUV or similar 1-4 passengers 85 EUR

MINIVAN

VW Minibus or similar 1-6 passengers 125 EUR

EXECUTIVE

Mercedes S-class or similar 1-3 passengers 155 EUR
LUXURY

Mercedes-Maybach or similar 1-3 passengers 195 EUR

We will always:
provide fixed prices
monitor your flight's arrival
wait or adjust the pick-up time
meet you holding your name sign
help to carry the luggage
be reachable via WhatsApp
be reliable and flexible
provide customer care in English
The Igora Drive Racing Circuit near St. Petersburg
has received homologation from the International Automobile Federation-a license of the highest level. The license means that the highway and ring road meets international standards and will be able to host all international racing series. The number of events that can now take place near St. Petersburg includes Formula 1. Obtaining a license by the complex is another crucial step in the development of Motorsport both in the Northern capital and in Russia.
It is located 75 kilometers from Saint Petersburg. Construction on the project by Hermann Tilke began in 2017, and the main works were completed by the end of 2019. In December 2019, the international automobile Federation (FIA) assigned the Igora Drive complex the Grade 2 category, which grants the right to host all types of racing series licensed by the FIA, except for formula 1, and in November 2020, the track received the Grade 1 category, which gives the right to host competitions of any level.
The Igora Drive racing complex includes ten professional tracks located on four sections: for road and circuit racing, go-karting, drift, pair racing, rallycross, motocross, Enduro, supermoto, off-road track, as well as the track of the center for counter-accident training with water supply systems. The length of the ring road is 4086 meters, it contains a total of 16 turns (left — nine, right — seven), the height difference is 17 meters, the track width is 12-16 meters.
The main grandstand is designed for 5,000 seats. An important feature of the track is the lighting provided here, which allows you to use the infrastructure of the circuit even in the dark. This is a fundamental decision since the Northern location of the complex implies not only white nights but also early twilight.
Book the Igora Drive Racing Circuit taxi transfer in St. Petersburg now!