COVID-19 QR code for foreigners in Russia
BREAKING: "The validity period of PCR tests in the Russian Federation has been reduced from 72 hours to 48 hours".
BREAKING: The Government of St. Petersburg has increased the maximum occupancy of the stands at sporting events. The city agreed on a 50% occupancy rate of stadiums and arenas. This means that even more people will be able to watch the matches of the KHL Championship and the Major League Hockey Championship live! This also applies to Zenit matches at Gazprom Arena, Zenit volleyball and basketball club matches at Sibur Arena, the Russian Figure Skating Championship, the ASA 113 martial arts tournament, the Final Four of the Russian Volleyball Cup among men's teams. All these events will be held in December with a 50% occupancy of the sites.

WE WILL GLADLY BOOK PCR TEST OR VACCINATION APPOINTMENT FOR OUR CLIENTS
Many foreign tourists and business visitors to Russia are asking questions about COVID-19 prevention rules and requirements in Russia and we're always are trying to provide timeous updates in order to avoid confusion and disinformation. Our manager Irina is always monitoring the relevant TripAdvisor posts and trying to reply as soon as possible.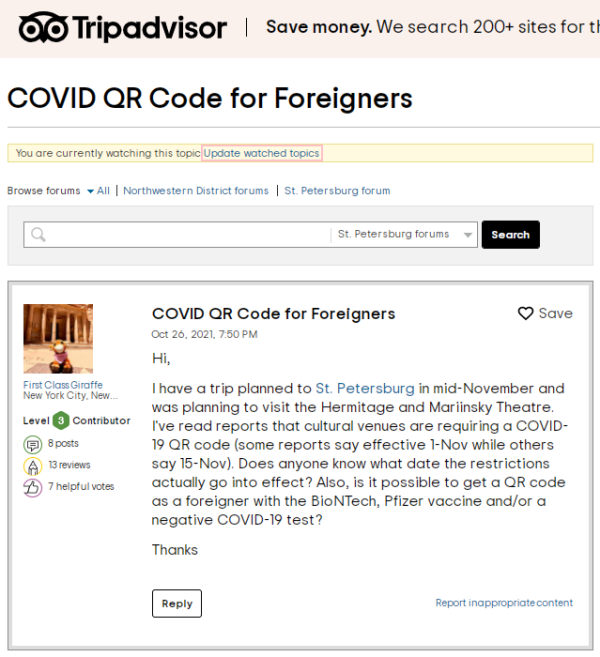 PCR testing in St. Petersburg - getting a fresh QR code at the airport Pulkovo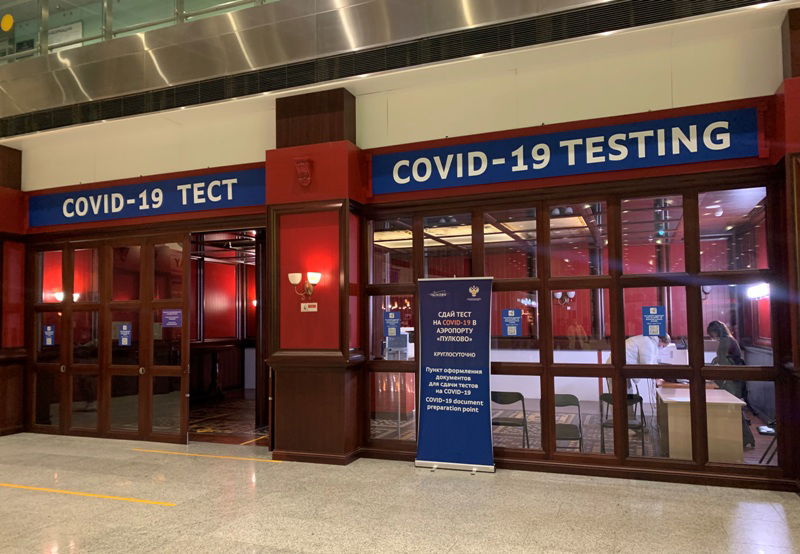 We'd like to inform you that our Saint Petersburg International Airport Pulkovo has its own PCR testing facility. It's situated right at the arrivals hall of the airport, on your left, next to the Irish Pub. They'll be able to send the certificate with a QR code via email within 24 hours.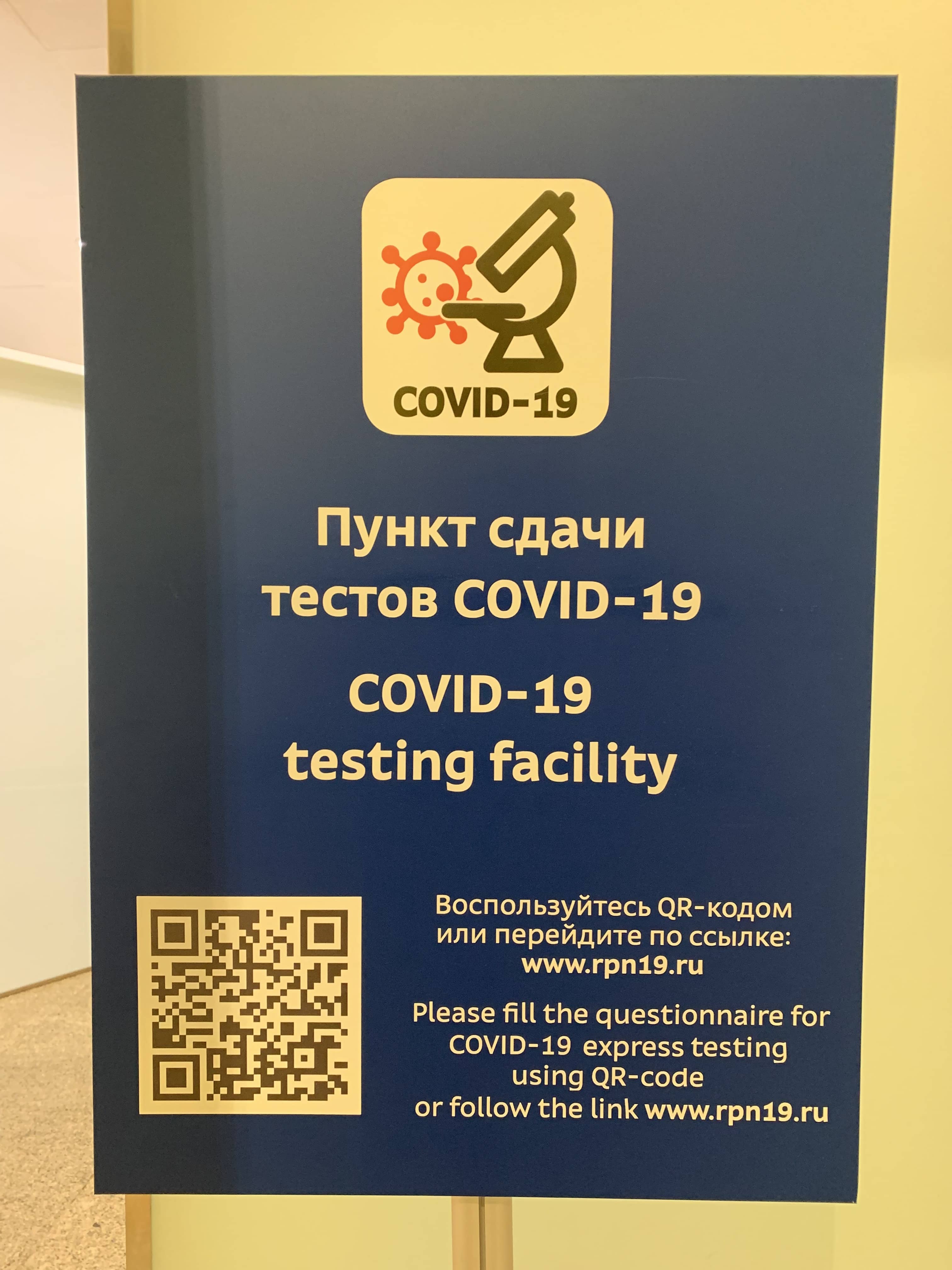 They can also provide faster service which will cost triple than the normal price. The "COVID-19" poster will be in front of you once entering the arrivals hall. The testing facility is located on your left.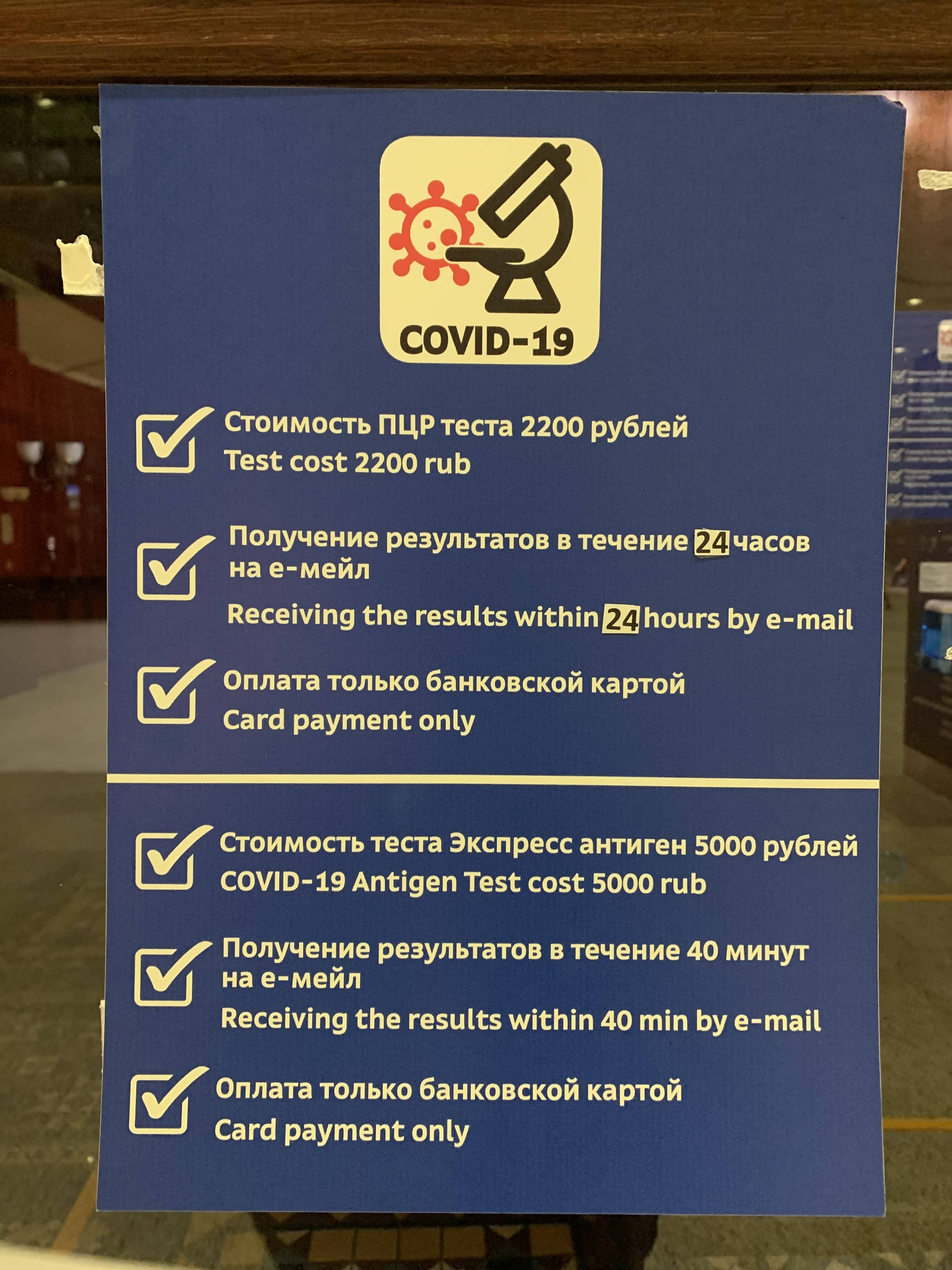 Getting a PCR / COVID-19 test in St. Petersburg
We suggest an INVITRO clinic if someone wants to do a PCR test in the city. This is a large network of testing facilities and they will provide you with an international certificate with a QR code at the cost of 1910 RUB the next day after the test was taken. One has to make a fixed appointment via the phone: 8 800 200-36-30. Ask anyone Russian-speaking to help you to do that.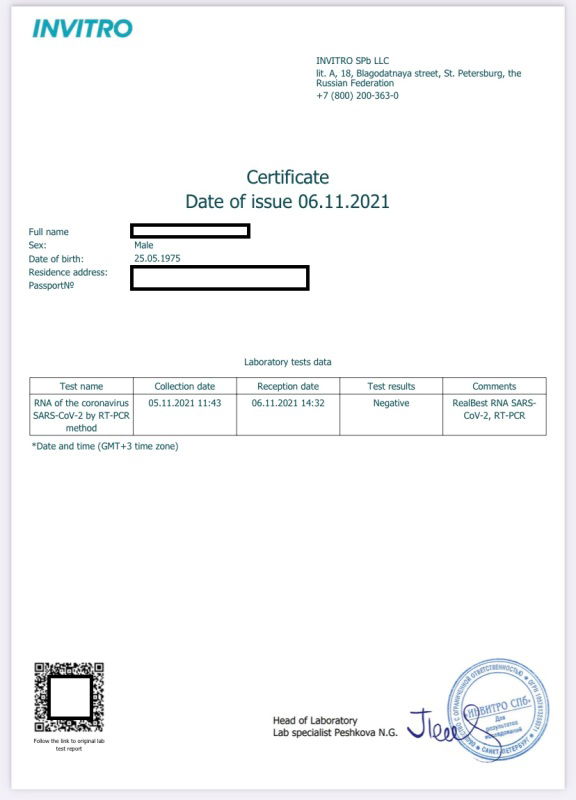 Take a test for COVID-19 at your hotel, apartment or an office in St. Petersurg
results before the end of the next day
the cost of the analysis starts from 2,100 ₽
free delivery in St. Petersburg
free certificate in English
Lifetime plus company will deliver a test kit to your doorstep. The courier will be waiting while you're doing the test. You will give a box with a kit back to the courier and get the result by the end of the following day.
Urgent PCR test result in St. Petersburg in 8 hours
The lab at Marata St. 6 is offering urgent testing and provide results urgently in 8 hours at the cost 3000₽.The sampling (smear) of the material is done daily: from 8.00 to 9.30 and results will be sent before 18:00. For the testing was done from 14.30 to 16.30, the results are ready before 10 o'clock the next morning. The certificate in English with the relevant QR code will be sent by e-mail.
Use the PCR test certificate to enter tourist attractions in Russia
For those who have a fresh PCR test: in order to enter the theatre must be not older than one day. Some places will accept QR codes that are not older than 24 hours and some not older 72 hours. That's applicable to the visitors who don't have any vaccination certificate or can't have any, because of medical conditions or restrictions against vaccination.
The Hermitage museum has confirmed that they will count a validity of a PCR test certificate from the date of issue. Meaning the test was taken on the 5th and the issue date is the 6th.
We strongly advise you to call any museum or theater before the visit and find out about their requirements.
Use of Western QR codes and certificates of COVID-19 vaccination in Russia
Some theatres and tourist attractions will accept visitors with their Western or Eastern type vaccination certificate with a QR code. Their staff is instructed accordingly. The ladies at the entrance have their scanners and are able to read English. In order to ensure a trouble-free environment and make sure that things are going smooth there is a supervisor somewhere nearby in most cases.
Western COVID-19 vaccination certificates can be used in Russia
Foreign vaccination certificates with QR codes on smartphones eg. BioNTech, Pfizer, Moderna, Sinopharm, etc. are good enough in Russia in some cases and can be used for visits to some places. It's advisable to contact the place via the phone before the visit.
Vaccination for foreigners in Russia
Vaccination against COVID-19 is available to foreign citizens and they can only be vaccinated with the Sputnik Lite vaccine. One of the clinics called "Scandinavia" will provide a mandatory consultation with a doctor who will determine whether you can be vaccinated for health reasons. The cost of such a reception is 2900 RUB. The cost of vaccination for foreign citizens is 600 RUB. Also, for those who want to get vaccinated urgently, the service "emergency vaccination against Covid-19" is available and the cost of such a service is higher.
We ask you to take care of your health and the safety of other passengers and our drivers and guides. Please refrain from traveling if you notice the following symptoms: dry cough, difficulty breathing, fever. Send us a message and we will be happy to reschedule all bookings for you.
Our taxi and transfer service is the best option for getting to or from Saint Petersburg International Pulkovo Airport, all train and bus stations in the city, cruise ports, or any other destination of Russia's Northern Capital and around the Leningrad region. Our driver will meet you at the arrivals hall holding your name sign and will help you to carry your luggage to the car. Our fares are fixed for all our transfers. You'll know in advance how much your trip is going to cost. The English-speaking manager is always a phone call away. Welcome to Russia!
Last updated 31 January 2022