English-Speaking Taxi To Pushkin In St Petersburg From 40 €
Click here to see fixed tariffs of St. Petersburg Pushkin Taxi services for 2020 season
Book your Saint-Petersburg taxi here
Taxi and transfer service is covering the Central, Admiralteysky and Moskovsky Districts of Saint-Petersburg, Petrogradsky and Vasilyevsky Islands, Peterhof, Pushkin and Pavlovsk. There will be an extra surcharge applicable in the event of booking the ride to the distant areas.
"Meet-and-Greet" service by St. Petersburg Taxi Transfer Service at Pulkovo Airport, Train Stations, Cruise Ports and City Hotels. City sightseeing tours and chauffeur hire on hourly basis.
Kindly follow our guidlines and avoid a taxi scam!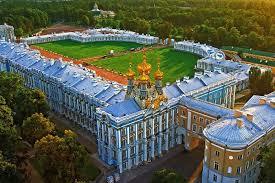 Some history of Pushkin:
In the XX century, during the First world war, Tsarskoye Selo housed one of the first airfields in Russia, from here endless trains left for the Western front. The fatal events of 1917 had a severe impact on Tsarskoye Selo. Nicholas II, who was born here and made Tsarskoye Selo his permanent residence in 1905, covered It with infamous fame. In Tsarskoye Selo, the last Russian Emperor abdicated. From here, from the Alexander Palace, the Romanov family was taken to Siberian exile.In Tsarskoye Selo, the first cleric was killed by the Bolsheviks, who opened a series of repressions against the Church with his death. Dark days came for the Imperial residence. Brilliant collections were squandered, many works disappeared without a trace, others suffered from lack of proper care. In 1937, on the 100th anniversary of Alexander Pushkin, the city was renamed in honor of the poet.The most serious challenge to the Tsar's Village in its entire history was the Great Patriotic war. The city survived the Nazi occupation, parks and gardens fell into disrepair, and art objects were barbarously destroyed or exported. The Catherine Palace was turned into a large garage, the Gestapo headquarters settled in the Alexander Palace, and the Palace Church became a Parking lot. Having survived the war, Pushkin was able to recover and regain all its former brilliance and beauty, which still delights, gives inspiration and moves to great things.