English-Speaking Taxi To Peterhof In St Petersburg From 40 €
Click here to see fixed tariffs of St. Petersburg Peterhof Taxi services for 2020 season
Book your Saint-Petersburg taxi here
Taxi and transfer service is covering the Central, Admiralteysky and Moskovsky Districts of Saint-Petersburg, Petrogradsky and Vasilyevsky Islands, Peterhof, Pushkin and Pavlovsk. There will be an extra surcharge applicable in the event of booking the ride to the distant areas.
"Meet-and-Greet" service by St. Petersburg Taxi Transfer Service at Pulkovo Airport, Train Stations, Cruise Ports and City Hotels. City sightseeing tours and chauffeur hire on hourly basis.
Kindly follow our guidlines and avoid a taxi scam!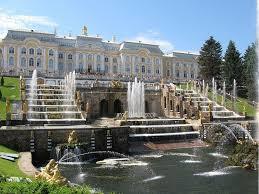 Some history of Peterhof:
Peterhof (from 1944 to 1997 — Petrodvorets) is a city in Russia, which is a municipality within the Petrodvorets district in Saint Petersburg. It is located in the southern part of the Gulf of Finland. Petrodvorets was founded in 1710 and was conceived as the main and most beautiful summer Imperial residence. By the mid-20s of the XVIII century, the regular Upper garden (15 ha) and Lower Park (102.5 ha) were laid out, the Grand Palace was built, the world's largest system of fountains and water cascades was created, and most of the sculptural decoration was made: many leaden, gilded statues, bas-reliefs, mascarons, and vases. In 1799-1806, the lead statues were replaced with gilded bronze ones. Sculptors I. p. Martos, I. p. Prokofiev, J. D. Rashett, F. I. Shubin, and F. F. Shchedrin worked in Peterhof. The center of the Peterhof Palace and Park ensemble is the Grand Palace, located on a natural hill. From its Central terrace, two monumental staircases lead to the Lower Park, framing the Grand cascade — the largest fountain structure of the ensemble, connected to the Sea channel. Chief among the gilded sculptures that adorn the Grand cascade is the sculpture group "Samson tearing the lion's mouth". The lower Park has a symmetrical layout. The sea channel with an alley of 22 fountains divides the Park into 2 parts. Each structure in the Eastern part of the Park is the same in the West: the cascade "Chess mountain" — cascade "Golden mountain", the Palace Monplezir pavilion "Hermitage", the fountain "Adam" fountain "eve". Unique is the water supply system that feeds the fountains of Peterhof, built at the beginning of the XVIII century. In contrast to the fountains of European parks, which were supplied with water using machines, Peterhof used a natural lowering of the area to the sea. Key water from 14 reservoirs flows through channels and pipes to the fountains, creating such a powerful water pressure that the stream of the Central fountain of the Lower Park ("Samson") rises up to 22 meters. Since 1990, it was decided that the city's parks and palaces should be included in the Peterhof architectural and art Museum. Since 1997, Petrodvorets has become part of the most valuable cultural heritage sites of the Russian people, which is visited by many tourists staying at the hotel in Petrodvorets.