English-Speaking Taxi To Pavlovsk In St Petersburg From 40 €
Click here to see fixed tariffs of St. Petersburg Pavlovsk Taxi services for 2020 season
Book your Saint-Petersburg taxi here
Taxi and transfer service is covering the Central, Admiralteysky and Moskovsky Districts of Saint-Petersburg, Petrogradsky and Vasilyevsky Islands, Peterhof, Pushkin and Pavlovsk. There will be an extra surcharge applicable in the event of booking the ride to the distant areas.
"Meet-and-Greet" service by St. Petersburg Taxi Transfer Service at Pulkovo Airport, Train Stations, Cruise Ports and City Hotels. City sightseeing tours and chauffeur hire on hourly basis.
Kindly follow our guidlines and avoid a taxi scam!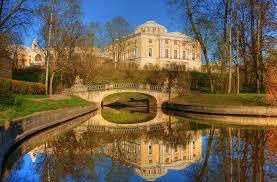 Some history of Pavlovsk:
After the revolution, Pavlovsk was renamed Slutsk, in honor of the revolutionary Vera Slutsk (1880-1917) and carried this name until 1944. The city was seriously damaged during the great Patriotic war – from September 17, 1941 to January 24, 1944, there were German units here. The Pavlovsk Palace was burned during the German retreat, and more than 60,000 trees were cut down in the Park during the years of occupation. Other historic buildings were also damaged. In 1944, the city was returned to its historical name. According to legend, Stalin in the order to award the units that liberated Pavlovsk and Pushkin, wrote by mistake " Pavlovsk (Slutsk)", and not Vice versa. After the war, the restoration of the Palace and Park complex began, which lasted from 1946 to 1973. An important role in this was played by Anna Ivanovna Zelenova (1913-1980), who headed the Pavlovsk Palace Museum from 1941 to 1979. She supervised the evacuation and burial of the most important Museum collections in August-September 1941, continued to systematize Museum valuables in besieged Leningrad, and after the war insisted on the need to restore the Pavlovsk Palace and Park. In 1989, Pavlovsk was included in the list of UNESCO world heritage sites in Russia. today, 42 sites are protected by the state as cultural and historical monuments. Pavlovsk has become one of the centers of tourism, with more than 1.5 million tourists visiting it every year. The Pavlovsk Palace was built in 1782-1787. Initially, the Palace was built according to the project of Charles Cameron, but due to disagreements between Cameron and Tsarevich Paul, the management of the works passed to Vincenzo Brenna. On January 10, 1803, a fire destroyed the interior, and the restoration of the Palace was entrusted to Andrey Voronikhin. In 1822-1824, the Library building was added to the project of the architect Carl Rossi.