English-Speaking Train Station Taxi In St Petersburg From 25 €
Click here to see fixed tariffs of St. Petersburg Train Station Taxi services for 2020 season
Book your Saint-Petersburg taxi here
Taxi and transfer service is covering the Central, Admiralteysky and Moskovsky Districts of Saint-Petersburg, Petrogradsky and Vasilyevsky Islands, Peterhof, Pushkin and Pavlovsk. There will be an extra surcharge applicable in the event of booking the ride to the distant areas.
"Meet-and-Greet" service by St. Petersburg Taxi Transfer Service at Pulkovo Airport, Train Stations, Cruise Ports and City Hotels. City sightseeing tours and chauffeur hire on hourly basis.
Kindly follow our guidlines and avoid a taxi scam!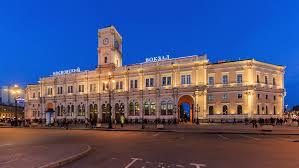 If you are traveling by train, there are 5 railway stations in Saint Petersburg: Moskovsky, Ladozhsky, Vitebsky, Finlandsky and Baltiysky. All stations in Saint Petersburg have convenient transport links and all, except Ladozhsky, are located near the city center. Most intercity trains arrive to Moskovsky train station. It is located in the city center, on Nevsky Prospekt and Vosstaniya square. The first high-speed train arrives at the Moscow railway station. There used to be an ER 200 train that ran faster. The train cars are very comfortable, the design of the train fully corresponds to the European ICE. The train is named after the fastest bird in the world - the peregrine Falcon, which can reach speeds of more than 300 km / h.