English-Speaking Cruise Port Taxi In St Petersburg From 27 €
Click here to see fixed tariffs of St. Petersburg Cruise Port Taxi services for 2020 season
Book your Saint-Petersburg taxi here
Taxi and transfer service is covering the Central, Admiralteysky and Moskovsky Districts of Saint-Petersburg, Petrogradsky and Vasilyevsky Islands, Peterhof, Pushkin and Pavlovsk. There will be an extra surcharge applicable in the event of booking the ride to the distant areas.
"Meet-and-Greet" service by St. Petersburg Taxi Transfer Service at Pulkovo Airport, Train Stations, Cruise Ports and City Hotels. City sightseeing tours and chauffeur hire on hourly basis.
Kindly follow our guidlines and avoid a taxi scam!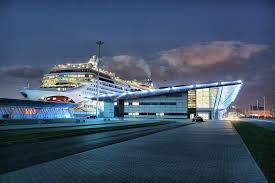 Marine facade is the first and only specialized passenger port in the North-Western region of Russia, located in Saint Petersburg on the alluvial territories of Vasilievsky island. The Port complex includes seven berths with a total length of 2171.06 meters for receiving ocean liners up to 340 meters long, three cruise and one specialized cruise and ferry terminal. Construction of a new port in the Neva Bay began in 2005, and in September 2008, the port received the first ship with passengers on Board. JSC "Passenger Port of Saint Petersburg" Marine facade " is the only operator of the sea terminal in the Passenger port of Saint Petersburg. JSC "Passenger Port of Saint Petersburg" Sea facade " is an active participant in the world cruise market and takes part in annual exhibitions and meetings of associations of which it is a member: the Association of sea trade ports, SLIA (Cruise Lines International Association), the Association of cruise market participants, Cruise Europe and the Association of sea tourism enterprises of Saint Petersburg.